Being an approved teaching centre involves more than a token acceptance of the quality principles. Before becoming approved, a teaching Centre must demonstrate in some detail (and in writing) that they meet the quality principles and must confirm that they are in a position to sign a legally binding agreement to that effect. This process is laid out in more detail  below.
Once approved, the Centre must operate the qualifications for which they have been approved in accordance with MAEL's rules and rubrics. They must also commit to making the learners' interests paramount. These are conditions of MAEL's own approval by regulatory bodies, and their observance is non-negotiable. The Centre must also agree to co-operate with MAEL if an enquiry or investigation is instigated by any regulatory body.
The financial implications are described in the page on fees & benefits on the navbar.
MAEL has to satisfy itself that all Teaching Centres are operating professionally and competently and to this effect there is a quality assurance programme in place. This is explained in detail in the manual provided to approved centres.
The process of devising a course of instruction for the learners to follow is the Centre's. MAEL may offer guidance as to what has proved effective in other Centres. However this is not guaranteed and is purely advisory. The one point in the course where there is no flexibility is in the arrangements for, and structure of, the assessments – which may, however, be done in the order which best suits the course. Some assessments are marked externally, others are marked by the Centre staff. This is explained in detail in the manual provided to approved centres.
For further detail click here (more…)
Making an Application
An initial approach for a Teaching Centre to be approved may be initiated by MAEL officers or directly by a prospective or existing Montessori teacher education programme or centre. To be an Approved Teaching Centre involves acceptance of, and adherence to, four quality principles, which are described in section 2.1.2 herein. This must be documented before approval can be granted. Prospective teaching centres should follow the process described here.
A. Make an informal approach to MAEL (either by telephone on 01892 870740 or by email to [email protected]) to discuss, without any commitment on either side, possible future plans. The MD will appoint an individual to act as the prospective centre's contact for the approval process. Centres are very welcome to request a face-to-face meeting at MAEL's offices.
B. Carefully read through the criteria for approval, and the guidance notes, (which may be downloaded from the MAEL website www.montessoriassessment.com/?page_id=77) and undertake a review of the current state of the organisation of the centre (or proposed organisation) to check if there any areas which may cause problems. Problems could (for example) arise from:
● Perceived issues with providing the physical facilities (venue and equipment) required
● Financial issues
● Staffing issues
● Needing clarification
● Disagreement with the underlying philosophy
Should any such issues be noted, prospective centres are very strongly encouraged to discuss this further with their MAEL contact. At every point of the process, MAEL personnel will be available at reasonable times to answer queries.
C. The Teaching Centre (TC) staff should then work through each of the quality principles in turn. When they are satisfied that they meet the criteria in full, the responsible person should complete that part of the application form (which is available online at http://montessoriassessmenr.com/?page_id=222) but please note that the online version is a 'type-in' form so the boxes expand as you type into them. The existing small boxes do not indicate the extent of the response expected.
D. The TC should then move on to the next of the 4 quality principles. When the whole process is complete, all supporting documents should be assembled and the application form completed (ensuring that all supporting documents are clearly cross referenced on, and firmly attached to, the form.)
E. The completed form (together with all supporting documentation) should be posted to:
The Managing Director, MAEL,
The Shelter,
Hoath Hall,
Chiddingstone Hoath,
Edenbridge,
Kent TN8 7DD, U.K.
A copy of the form itself should be emailed to [email protected] and centres are strongly advised to retain a copy of everything.
F. The application form will be acknowledged immediately upon receipt.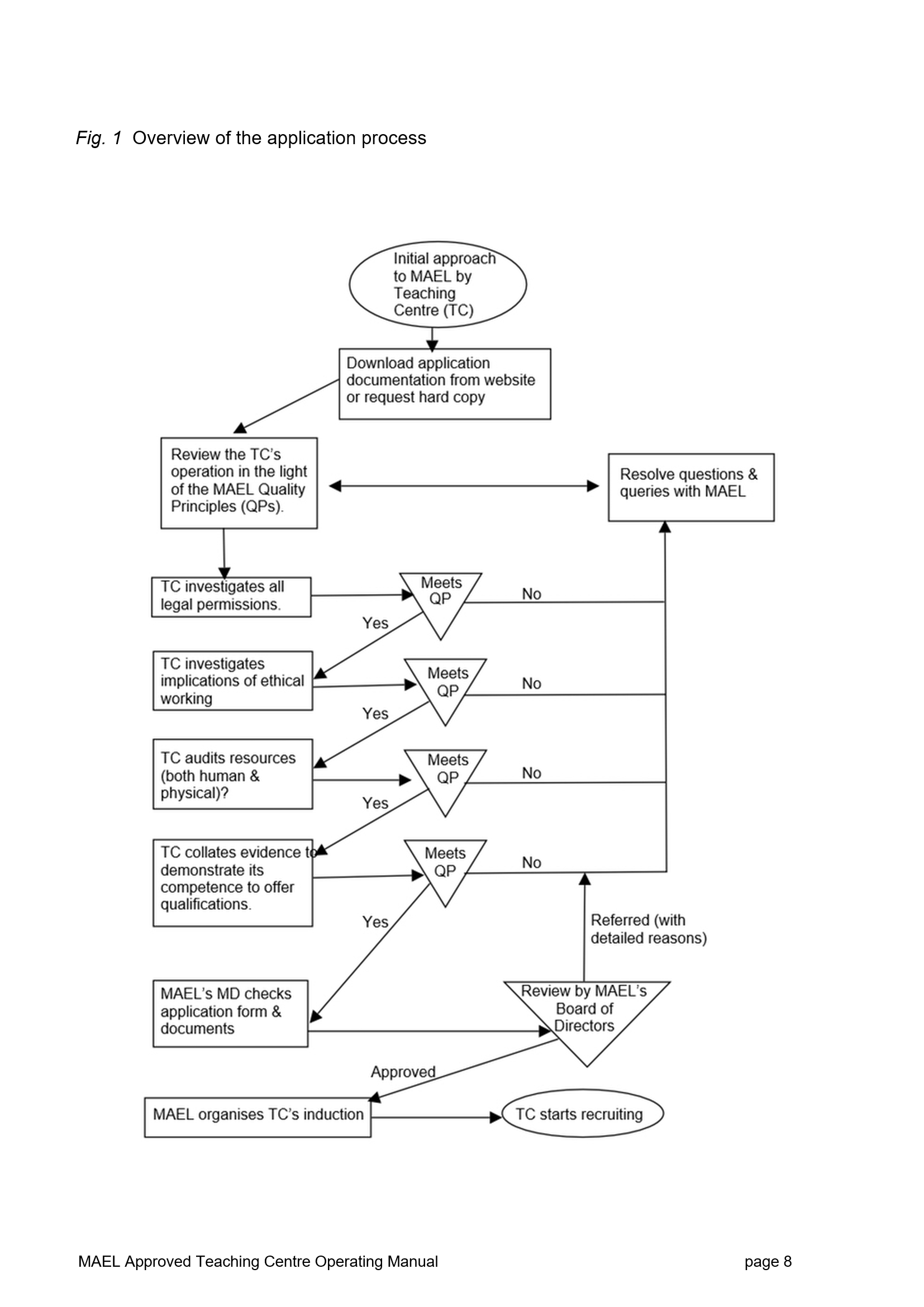 uploaded 30.01.17, reviewed 22.05.2021